Flights, Arrivals & Departures at Tirana International Airport
Origin
Airline
Flight no.
Scheduled
Est./Actual
Status
Barcelona (BCN)
Wizz Air
W43866
00:15
23:59
Landed
Bergamo (BGY)
Wizz Air
W43870
00:15
00:15
Landed
Verona (VRN)
Wizz Air
W43850
00:40
00:32
Landed
Cologne (CGN)
Wizz Air
W43868
01:10
01:19
Landed
Madrid (MAD)
Wizz Air
W46646
01:10
00:50
Landed
Milan (MXP)
Wizz Air
W46610
01:25
02:34
Landed
Bergamo (BGY)
Ryanair
FR8349
07:50
Scheduled
Catania (CTA)
Ryanair
FR8369
07:55
Scheduled
Athens (ATH)
Aegean Airlines
A3970
09:05
08:51
Landed
Wasaw Modlin (WMI)
Ryanair
FR8413
09:10
Scheduled
Rome (FCO)
Wizz Air
W43858
09:55
Scheduled
London (STN)
Ryanair
RK8288
10:25
Scheduled
Bergamo (BGY)
Wizz Air
W43846
10:40
Scheduled
Treviso (TSF)
Wizz Air
W43852
10:40
Scheduled
Athens (ATH)
Wizz Air
W44814
10:45
Scheduled
Bologna (BLQ)
Wizz Air
W46682
10:50
Scheduled
Pisa (PSA)
Wizz Air
W43854
10:55
Scheduled
Milan (MXP)
Wizz Air
W46608
11:00
Scheduled
Florence (FLR)
Albawings
2B268
11:10
Scheduled
Turin (TRN)
Wizz Air
W46604
11:35
Scheduled
Dortmund (DTM)
Wizz Air
W43842
11:40
Scheduled
Pisa (PSA)
Air Albania
ZB2010
11:40
Scheduled
Luton (LTN)
Wizz Air
W94465
11:50
Scheduled
Istanbul (IST)
Air Albania
ZB1005 expand_more(1)
11:50
Scheduled
Istanbul (IST)
Turkish Airlines
TK4649
11:50
Scheduled
London (LHR)
Finnair
BA380 expand_more(1)
12:05
Scheduled
London (LHR)
American Airlines
AA7035
12:05
Scheduled
Brussels (CRL)
Wizz Air
W46626
12:20
Scheduled
Manchester (MAN)
Ryanair
RK8292
12:25
Scheduled
Catania (CTA)
Wizz Air
W46606
12:30
Scheduled
Prague (PRG)
Ryanair
FR8311
13:05
Scheduled
Frankfurt (FRA)
Lufthansa
LH1424
13:20
Scheduled
Milan (MXP)
Air Albania
ZB2004
13:30
Scheduled
Rimini (RMI)
Wizz Air
W43876
14:00
Scheduled
Vienna (VIE)
Austrian Airlines
OS847 expand_more(2)
14:15
Scheduled
Vienna (VIE)
SAS
SK9449
14:15
Scheduled
Vienna (VIE)
United Airlines
UA9837
14:15
Scheduled
Pescara (PSR)
Wizz Air
W43864
14:25
Scheduled
Bari (BRI)
Wizz Air
W46602
14:30
Scheduled
Ancona (AOI)
Wizz Air
W43856
14:40
Scheduled
Bucharest (OTP)
Wizz Air
W43205
14:40
Scheduled
Rome (FCO)
ITA Airways
AZ582 expand_more(5)
14:55
Scheduled
Rome (FCO)
Air France
AF9783
14:55
Scheduled
Rome (FCO)
Bulgaria Air
FB1733
14:55
Scheduled
Rome (FCO)
Delta Air Lines
DL6670
14:55
Scheduled
Rome (FCO)
Etihad Airways
EY3047
14:55
Scheduled
Rome (FCO)
KLM
KL3447
14:55
Scheduled
Paris (BVA)
Ryanair
FR8313
15:10
Scheduled
Bologna (BLQ)
Wizz Air
W43878
15:25
Scheduled
Turin (TRN)
Wizz Air
W46662
16:05
Scheduled
Pisa (PSA)
Ryanair
FR8390
16:25
Scheduled
Treviso (TSF)
Ryanair
FR8401
16:40
Scheduled
Perugia (PEG)
Wizz Air
W44812
16:50
Scheduled
Warsaw (WAW)
LOT
LO599 expand_more(1)
16:55
Scheduled
Warsaw (WAW)
SAS
SK8138
16:55
Scheduled
Istanbul (SAW)
Pegasus
PC283
16:55
Cancelled
Istanbul (IST)
Air Albania
ZB1011 expand_more(1)
17:10
Scheduled
Istanbul (IST)
Turkish Airlines
TK8781
17:10
Scheduled
Bologna (BLQ)
Ryanair
FR8398
17:40
Scheduled
Verona (VRN)
Air Albania
ZB2012
17:40
Scheduled
Athens (ATH)
Aegean Airlines
A3972 expand_more(1)
17:50
Scheduled
Athens (ATH)
Emirates
EK4973
17:50
Scheduled
Rome (FCO)
Air Albania
ZB2002
17:50
Scheduled
Dusseldorf (DUS)
Air Albania
ZB5002
18:40
Scheduled
Lyon (LYS)
Wizz Air
W43890
18:40
Scheduled
Hamburg (HAM)
Wizz Air
W46614
18:40
Scheduled
Lisbon (LIS)
Portugal - Air Force
AFP33
18:49
Scheduled
Rome (CIA)
Ryanair
FR8359
18:55
Scheduled
Pisa (PSA)
Wizz Air
W46650
19:05
Scheduled
Treviso (TSF)
Wizz Air
W44810
19:10
Scheduled
Stockholm (ARN)
Ryanair
FR8417
19:25
Scheduled
Verona (VRN)
Wizz Air
W43884
19:30
Scheduled
Edinburgh (EDI)
Ryanair UK
RK8294
19:45
Scheduled
Luton (LTN)
Wizz Air
W94473
19:45
Scheduled
London (STN)
Ryanair UK
RK8290
20:05
Scheduled
Memmingen (FMM)
Wizz Air
W43844
20:10
Scheduled
Trieste (TRS)
Wizz Air
W44836
20:15
Scheduled
Budapest (BUD)
Wizz Air
W62233
21:00
Scheduled
Bergamo (BGY)
Ryanair
FR8355
21:40
Scheduled
Genova (GOA)
Albawings
2B240
21:45
Scheduled
Istanbul (SAW)
Pegasus
PC281
21:55
Scheduled
Karlsruhe Baden Baden (FKB)
Wizz Air
W46618
22:30
Scheduled
Luton (LTN)
Wizz Air
W94471
22:30
Scheduled
Frankfurt (FRA)
Lufthansa
LH1454 expand_more(1)
23:00
Scheduled
Frankfurt (FRA)
TAP Air Portugal
TP7641
23:00
Scheduled
Rome (FCO)
Wizz Air
W43888
23:10
Scheduled
Milan (MXP)
Wizz Air
W46630
23:15
Scheduled
Istanbul (IST)
Air Albania
ZB1004 expand_more(1)
23:15
Scheduled
Istanbul (IST)
Turkish Airlines
TK9249
23:15
Scheduled
Bologna (BLQ)
Air Albania
ZB2006
23:20
Scheduled
Bari (BRI)
Wizz Air
W46648
23:30
Scheduled
Destination
Airline
Flight no.
Scheduled
Est./Actual
Status
Istanbul (SAW)
Pegasus
PC282
03:05
02:58
En-Route
Dortmund (DTM)
Wizz Air
W43841
06:00
Scheduled
Rome (FCO)
Wizz Air
W43857
06:10
Scheduled
Milan (BGY)
Wizz Air
W43845
06:10
Scheduled
Milan (MXP)
Wizz Air
W46607
06:20
Scheduled
Brussels (CRL)
Wizz Air
W46625
06:20
Scheduled
Frankfurt (FRA)
Lufthansa
LH1455 expand_more(1)
06:25
Scheduled
Frankfurt (FRA)
TAP Air Portugal
TP7571
06:25
Scheduled
Venice (TSF)
Wizz Air
W43851
06:50
Scheduled
Pisa (PSA)
Wizz Air
W43853
06:50
Scheduled
Bologna (BLQ)
Wizz Air
W46681
06:55
Scheduled
Turin (TRN)
Wizz Air
W46603
06:55
Scheduled
Florence (FLR)
Albawings
2B267
07:00
Scheduled
Athens (ATH)
Wizz Air
W44813
07:10
Scheduled
Istanbul (IST)
Air Albania
ZB1001 expand_more(1)
07:25
Scheduled
Istanbul (IST)
Turkish Airlines
TK9248
07:25
Scheduled
Pisa (PSA)
Air Albania
ZB2009
07:30
Scheduled
Milan (BGY)
Ryanair
FR8350
08:20
Scheduled
Catania (CTA)
Ryanair
FR8370
08:20
Scheduled
Milan (MXP)
Air Albania
ZB2003
08:25
Scheduled
Warsaw (WMI)
Ryanair
FR8414
09:35
Scheduled
Athens (ATH)
Aegean Airlines
A3971 expand_more(1)
09:50
Scheduled
Athens (ATH)
Emirates
EK4974
09:50
Scheduled
Rimini (RMI)
Wizz Air
W43875
10:30
Scheduled
London (STN)
Ryanair
RK8289
11:10
Scheduled
Ancona (AOI)
Wizz Air
W43855
11:15
Scheduled
Pescara (PSR)
Wizz Air
W43863
11:15
Scheduled
Turin (TRN)
Wizz Air
W46661
11:25
Scheduled
Bologna (BLQ)
Wizz Air
W43877
11:30
Scheduled
Bari (BRI)
Wizz Air
W46601
11:35
Scheduled
London (LTN)
Wizz Air
W94466
12:25
Scheduled
Hamburg (HAM)
Wizz Air
W46613
12:40
Scheduled
Verona (VRN)
Air Albania
ZB2011
12:40
Scheduled
Istanbul (IST)
Air Albania
ZB1010 expand_more(1)
12:50
Scheduled
Istanbul (IST)
Turkish Airlines
TK8782
12:50
Scheduled
Manchester (MAN)
Ryanair
RK8293
12:50
Scheduled
Dusseldorf (DUS)
Air Albania
ZB5001
12:50
Scheduled
London (LHR)
Finnair
BA381 expand_more(1)
13:05
Scheduled
London (LHR)
American Airlines
AA7036
13:05
Scheduled
Catania (CTA)
Wizz Air
W46605
13:05
Scheduled
Perugia (PEG)
Wizz Air
W44811
13:10
Scheduled
Lyon (LYS)
Wizz Air
W43889
13:30
Scheduled
Prague (PRG)
Ryanair
FR8312
13:30
Scheduled
Rome (FCO)
Air Albania
ZB2001
14:00
Scheduled
Frankfurt (FRA)
Lufthansa
LH1425 expand_more(1)
14:10
Scheduled
Frankfurt (FRA)
TAP Air Portugal
TP6708
14:10
Scheduled
Vienna (VIE)
Austrian Airlines
OS848 expand_more(1)
15:00
Scheduled
Vienna (VIE)
SAS
SK9450
15:00
Scheduled
Pisa (PSA)
Wizz Air
W46649
15:05
Scheduled
Bucharest (OTP)
Wizz Air
W43206
15:15
Scheduled
Venice (TSF)
Wizz Air
W44809
15:20
Scheduled
Verona (VRN)
Wizz Air
W43883
15:25
Scheduled
Memmingen (FMM)
Wizz Air
W43843
15:30
Scheduled
Paris (BVA)
Ryanair
FR8314
15:35
Scheduled
Rome (FCO)
ITA Airways
AZ585 expand_more(4)
15:45
Scheduled
Rome (FCO)
Air France
AF9799
15:45
Scheduled
Rome (FCO)
AirSERBIA
JU7136
15:45
Scheduled
Rome (FCO)
Etihad Airways
EY3048
15:45
Scheduled
Rome (FCO)
KLM
KL3446
15:45
Scheduled
Trieste (TRS)
Wizz Air
W44835
16:15
Scheduled
Pisa (PSA)
Ryanair
FR8391
16:55
Scheduled
Venice (TSF)
Ryanair
FR8400
17:10
Scheduled
Karlsruhe/Baden-Baden (FKB)
Wizz Air
W46617
17:25
Scheduled
Genoa (GOA)
Albawings
2B241
17:30
Scheduled
Istanbul (SAW)
Pegasus
PC284
17:55
Cancelled
Barcelona (BCN)
Wizz Air
W43865
18:00
Scheduled
Bologna (BLQ)
Ryanair
FR8399
18:10
Scheduled
Athens (ATH)
Aegean Airlines
A3973
18:30
Scheduled
Milan (MXP)
Wizz Air
W46629
18:35
Scheduled
Istanbul (IST)
Air Albania
ZB1003 expand_more(1)
18:55
Scheduled
Istanbul (IST)
Turkish Airlines
TK9250
18:55
Scheduled
Bologna (BLQ)
Air Albania
ZB2005
19:00
Scheduled
Rome (FCO)
Wizz Air
W43887
19:25
Scheduled
Rome (CIA)
Ryanair
FR8360
19:25
Scheduled
Milan (BGY)
Wizz Air
W43869
19:45
Scheduled
Frankfurt (HHN)
Wizz Air
W46615
19:45
Scheduled
Milan (MXP)
Wizz Air
W46609
19:50
Scheduled
Stockholm (ARN)
Ryanair
FR8418
20:00
Scheduled
Verona (VRN)
Wizz Air
W43849
20:05
Scheduled
Edinburgh (EDI)
Ryanair UK
RK8295
20:10
Scheduled
London (LTN)
Wizz Air
W94474
20:20
Scheduled
London (STN)
Ryanair UK
RK8291
20:40
Scheduled
Bologna (BLQ)
Wizz Air
W43847
20:45
Scheduled
Bari (BRI)
Wizz Air
W46647
20:55
Scheduled
Budapest (BUD)
Wizz Air
W62234
21:35
Scheduled
Milan (BGY)
Ryanair
FR8356
22:05
Scheduled
London (LTN)
Wizz Air
W94472
23:05
Scheduled
Flying To and From Tirana International Airport
This page provides information about the destinations that can be reached via Tirana International Airport.
Was your flight delayed or cancelled?
You may be eligible to receive up to 600 EUR compensation per person in your party..
Claim Now!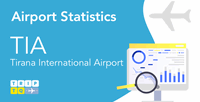 In September 2023, Tirana Airport saw a 54.75% increase in passenger numbers compared to the same month in 2019.