TIRANA INTERNATIONAL AIRPORT (TIA) INFORMATION
Origin
Airline
Flight no.
Scheduled
Est./Actual
Status
No flight arrivals were found at Tirana International Airport.
Destination
Airline
Flight no.
Scheduled
Est./Actual
Status
No flight departures were found at Tirana International Airport.
Car Hire at Tirana International Airport
UNBEATABLE VALUE CAR RENTAL
Free Amendments | Free Cancellations | No Card Fees




Tirana Airport - All Information on Tirana Airport (TIA) Tirana International Airport
Ruga Nene Tereza, Rinas 1504, Albania
phone +355 4 238 1800
phone+355 4 238 1800 (Lost + Found)
call_end+ 355 4 379 065 (fax)
Facts and History about Tirana International Airport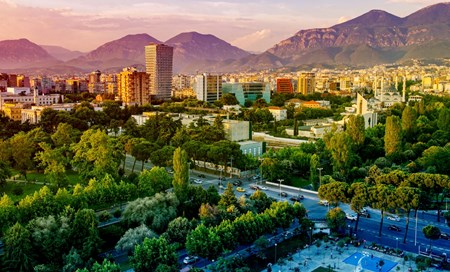 Tirana International Airport (IATA: TIA), also known as Rinas International Airport, is one of the two major international airports serving the Republic of Albania. Its primary service area is the county of Tirana, which includes the city of Tirana and its metropolitan area. The airport was named "Mother Teresa" in honor of the Roman Catholic nun and missionary from Albania. It is located 11 kilometers northwest of Tirana.
Most European destinations are serviced, with Milan, Rome, London, and Istanbul most frequently visited. Air Albania, Albawings, and Wizz Air all have major hubs at the airport. There are scheduled passenger services available at the airport. It's the biggest airport in Albania and one of the busiest in the Balkans.
Arrivals, Departures and Airlines at Tirana International Airport
Transfer Services at Tirana Airport
Tirana Airport, in Albania, is served by several ground transportation services. The most common way to get to and from the airport is by using the airport's taxi service. Those who wish to independently explore Albania can choose from several car rental agencies offering short- and long-term rentals at the airport in Tirana.
In addition, during rush hours, local buses run every 30 minutes between Tirana's downtown and the airport. Passengers can use a shared shuttle service to pick them up from their Tirana hotel or home address and drop them off at the airport's arrivals terminal.
Rental Car Services at Tirana Airport
Travelers to Albania can easily, conveniently, and affordably explore the surrounding area by renting a car at the airport in Tirana. Customers can find the perfect vehicle for their trip from a wide selection of sedans, SUVs, luxury models, and optional services such as navigation systems or baby and child seats for families on the go.
The airport has friendly customer service agents who can help you find a cheap flight from a nearby city or tell you more about the sights and attractions in Tirana.
See and compare all rental car companies at Tirana Airport.
Taxi Services at Tirana Airport
Getting to Tirana International Airport is quickest by taxi, which can be found in all major urban centers. Depending on traffic, the trip from the airport to the heart of Tirana takes about 25 minutes and costs around 20 Euros. See more information about taxis at Tirana Airport.
Taxi service between the Tirana Airport and any city in Albania is provided by Auto Holiday Albania (AHA). Service is available around the clock, every day of the week, and is always reasonably priced.
Train Services at Tirana Airport
Tirana Airport in Albania needs a train service. Travelers are urged to seek alternate modes of transportation.
In Tirana, taxis are the most frequently used mode of transportation due to the city's abundance of affordable and dependable options. Depending on traffic and how far you need to go, you can expect to pay anywhere from 10 to 20 euros to get to the city's heart. More information about train services near Tirana Airport.
Both domestic and international passengers can take advantage of the bus service. For just 4 euros, a person can travel from the airport to the heart of Tirana.
Bus Services at Tirana Airport
LUNA Travels operates a shuttle service between the Tirana International Airport and the city center. The bus stop can be found in the back of the National Theatre of Opera and Ballet. The cost of a single ride is 400 Albanian Lek. More information about buses to and from Tirana Airport.
Daily service on the Rinas Express bus line begins at 6:00 AM and continues until 12:00 AM. You can ride the Rinas Express bus from Tirana to the airport every hour. The bus is in the back of the Opera and Ballet Palace in Tirana. It'll take you about 30 minutes to drive there.
Hotel Shuttle Services at Tirana Airport
You can easily reach your hotel or other location in the city by using this service. The shuttles are convenient, comfortable, and accessible at all hours of the day and night. Several of the area's hotels offer shuttle services to and from the airport.
You can save time by planning ahead, as these shuttles only run at specific times during the day and night. These shuttles typically drop off passengers at their hotel's lobby, lobby entrance, or other destination.
To learn more, please check our hotel page.
Rideshare Services at Tirana Airport
Travelers, especially those on a budget, will appreciate taking a shuttle to and from the airport instead of a taxi. Ridesharing services are not only inexpensive but also quick and trustworthy.
Many drivers offering rideshare services out of Tirana Airport have intimate familiarity with the area, meaning they can take shortcuts that would otherwise take longer than the standard taxi ride to reach their passengers.
Parking Services at Tirana Airport
Parking at the airport is convenient because many spots are available for short- and long-term stays. To guarantee that a parking spot is waiting for you when you arrive at the airport, you can reserve it in advance through the website.
There are daily, monthly, and annual rates for those needing to store their vehicles for longer periods. Parking lots offered by private companies close to Tirana Airport are often more spacious and cost less than those on airport grounds, so many passengers opt to park there instead.
See more information about short and long term parking at Tirana Airport.
Other Services at Tirana Airport
Other passenger services and amenities at Tirana Airport in Albania include shops, currency exchange offices, ATMs, car rental services, and a public postal office. The airport also houses several cafes and restaurants for travelers to enjoy.
Additionally, it provides special assistance to disabled passengers with wheelchairs available upon request from any information desk in the terminal building. Finally, there are several lounges located in the area which offer comfortable seating areas as well as complimentary snacks and drinks for travelers who wish to relax before their next flight.
Disabled Passengers at Tirana Airport
The airport provides a wide range of services for disabled passengers, such as wheelchair access, assistance with check-in and boarding procedures, and designated parking spaces. Passengers with disabilities can also benefit from an adapted toilet on the ground floor of the terminal building.
In addition, passengers that require specific assistance can contact the airport service Help Desk before their arrival to ensure they receive all required support during their stay at the airport. Furthermore, it is fully accessible to deaf or hard-of-hearing people; signs throughout the facility are displayed in both English and sign language to make them more easily understood by everyone.
Wi-Fi at Tirana Airport
The Wi-Fi network can be accessed in the terminal building and airside areas, including waiting for lounges. You must search for the available network on your device's wireless settings or look for a Tirana Airport free Wi-Fi hotspot sign and click connect. Passengers must register their personal details before connecting and accept the terms of use and any other applicable regulations shown on the screen before using the service.
Baggage Claim at Tirana Airport
The section offers various services, such as checking in and collecting lost property. The area is well-monitored by CCTV cameras for safety purposes. ATMs are also available for passengers to use at the airport if needed. Furthermore, an information desk assists and advises travelers regarding their flights and other related inquiries.
Information Desk at Tirana Airport
Information desk areas at Tirana Airport are staffed by friendly, knowledgeable attendants who can answer any questions. Whether it's directions to the closest restaurant or guidance on how to book a flight, they'll be happy to help. You can also find helpful information kiosks.
Smoking at Tirana Airport
Smoking is prohibited inside the airport terminal building, but an outdoor smoking area exists. This facility has seating and ashtrays, making it a convenient spot for smokers to take a break while waiting for their flight. Those wishing to smoke should adhere to any relevant signage before lighting up.
In addition, Tirana Airport also follows strict regulations regarding the carrying and consumption of alcohol within its premises; no open containers are allowed at any time, and duty-free purchases must remain sealed until passengers leave the airport after their flights have concluded.
Lost and Found Section at Tirana Airport
All items found by passengers or staff at Tirana Airport must be transferred to the Lost & Found Department. As a passenger, you can claim any item(s) lost during your time spent at Tirana Airport premises. The service provided is free of charge as per current legislation in Albania.
The items will stay there for 30 days before being sent to our main office for storage. Depending on the circumstances, they will remain there for 3 months until their return or disposal. If you wish to reclaim an item, please get in touch with us with details of the item(s) lost, along with a photograph ID if applicable.
Restrooms at Tirana Airport
They feature many stalls, allowing travelers to quickly find a restroom. While no gender-neutral or family restroom is available, the airport offers separate restrooms for men and women.
In addition, they also provide disabled-accessible stalls with grab bars in each restroom area. All the sinks are automated, and soap dispensers on the walls supply travelers with hand-washing supplies.
Nursing Mothers Station at Tirana Airport
The station provides a private area with comfortable seating and access to nursing supplies. It also has secure storage lockers so mothers can store their belongings while caring for their babies.
ATMs at Tirana Airport
ATM services at Tirana Airport are scattered at various locations throughout the terminal. In addition to cash withdrawal facilities, some ATMs offer banking services like balance inquiries and account transfers.
Currency Exchange at Tirana Airport
Currency exchange services at Tirana Airport offer competitive exchange rates. Having some local currency on hand when arriving in Albania is recommended, as many shops, restaurants, and hotels do not accept foreign currencies.
Rates change often and can vary greatly depending on where you exchange your money, so comparing different services is important before deciding which one best suits your needs.
Food and Beverages at Tirana Airport
Travelers can enjoy hot and cold beverages and snacks from local and international brands. For those looking for something more substantial, there is a selection of sit-down restaurants offering traditional Albanian dishes and international favorites such as pizza or burgers.
There are also cafés serving fresh pastries, cakes, sandwiches, and desserts. Additionally, several fast food stands are located throughout the airport with familiar global fast food chains.
Shopping at Tirana Airport
There is also a travel convenience store offering souvenirs and gifts and an Albanian market selling traditional local items such as olive oil and handicrafts.
Some stores also stock luxury goods, including watches, jewelry, perfumes, and spirits. It's worth checking out if you're looking for something special or want to pick up some ideal souvenirs for your friends or family back home.
Pet Relief at Tirana Airport
Pet relief areas at Tirana Airport provide a great convenience for travelers accompanied by furry friends. Located in the arrivals hall and car park, the pet relief areas offer a safe and secure environment for pets to do business while traveling through the airport.
The area is equipped with plenty of grassy patches, waste bags, and water fountains - ensuring that your pet has everything they need while you navigate through the airport. All pets must always be on a leash when using these facilities.
Ticketing Services at Tirana Airport
Ticketing services at Tirana Airport are modern and offer a variety of options. The airport offers kiosks that make the ticketing process easier and faster and online booking sites with competitive prices.
In addition to the usual check-in desks, an automated baggage system helps reduce waiting times. Passengers can also take advantage of direct flights to many European cities from Tirana Airport, making it a convenient option for travelers who need to quickly get where they are going.
History of Tirana Airport
Between 1955 and 1957, the airport was built. Before the 1990s, Tirana was served by commercial airlines. In 1926, German airline Adria-Aero-Lloyd secured a monopoly for internal air services in the country and began servicing Tirana, Shkodr, Korç, and Vlor.
Since these endeavors were unsuccessful, the airline transferred the rights to the operations to the Italian business Ala Littoria, which began operating scheduled flights between Tirana and Shkodr, Kuks, Peshkopia, Kuçova, Vlora, and Gjirokastra in 1935. In 1938, the Yugoslav airline Aeroput began offering scheduled commercial service between Tirana and Belgrade, Serbia, via Dubrovnik, Croatia.
Air travel in Albania was extremely infrequent after World War II due to the country's isolationist communist regime. Transportation to Belgrade was available from 1944 to 1948. The Soviet-Hungarian corporation Maszovlet only provided a twice-monthly connection to Budapest after the split in relations with Yugoslavia. This service did not begin until 1953.
Before the opening of service to Moscow in February 1955, air travel to Eastern European capitals was unavailable from 1953 to 1955. As early as the 1970s, Tirana was connected to Beijing through Bucharest and Tehran by China's CAAC Airlines, making it one of the earliest European cities to get Chinese air service. Six airlines offered nine weekly return flights to Tirana in the late 1980s.
The number of airlines using the airport skyrocketed after the fall of communism in Albania in 1991 when restrictions on Albanians' ability to travel abroad were loosened. There were 8,249 flights with 356,823 passengers in 1999, a sevenfold increase from 1991.
About Tirana, Albania
The largest and most important city in Albania is Tirana. Located in the middle of the country, it is surrounded by hills and mountains, with Dajti rising to the east and a small valley to the northwest offering views of the Adriatic Sea. The city's proximity to the Mediterranean Sea and the Plain of Tirana make it particularly prone to the effects of a Mediterranean climate. It has both more rain and more sunshine than most European cities.
Sylejman Pasha Bargjini, an Ottoman Albanian general, founded Tirana in 1614. The city grew up around the Old Mosque and the türbe. Continual human habitation of the area now comprising the city's territory dates back to at least the Iron Age. It was inhabited by Illyrians and probably served as the heart of the Illyrian Kingdom of the Taulantii, located in the hinterland of Epidamnus during Classical Antiquity.
After the Illyrian Wars, Rome conquered the region and incorporated it into the empire. The Mosaics of Tirana is a living testament to that era's legacy. In the following centuries, between the 5th and 6th, an Early Christian basilica was constructed here. Because tosk is also derived from the Tyrrhenian language, it's possible that the name Tirana, Albania, was inspired by the doric Tursanoi.
During the time of Byzantine Emperor Justinian I, who ruled after the fall of the Western Roman Empire in the 4th century, the Byzantines conquered most of Albania and constructed the Petrel Castle there. After the Albanian Declaration of Independence in 1912, the Congress of Lushnj declared the city to be the capital of Albania.
Tirana is a gamma-world city because of its central location in Albania and the advanced air, marine, rail, and road transportation it provides. It is also the country's most important economic, financial, political, and trading center. The Presidential Palace, the Prime Minister's Residence, and the Parliament of Albania are all located there, making it the political epicenter of Albania. The title of "European Youth Capital" for 2022 has been bestowed upon the city.
As Albania's most industrialized and fastest-growing economic region, Tirana is the country's economic engine. The city grew as an Ottoman province when a bazaar was built at the beginning of the 16th century. Silk and cotton textiles, leather and pottery, and iron, silver, and gold wares were all produced there by skilled artisans.
The city and its suburbs grew dramatically in the twentieth century. They eventually became the most industrialized part of the country. The tertiary sector makes the most substantial contribution, which has developed considerably since the end of communism in Albania.
Tirana is home to most of Albania's banking institutions, including the Bank of Albania, the Albanian Stock Exchange, Banka Kombtare Tregtare, Raiffeisen Bank, Credins Bank, Intesa Sanpaolo Bank, and Tirana Bank.
Weather in Tirana, Albania
Winters in Tirana are lengthy, very cold, wet, and partially cloudy, whereas summers are short, hot, dry, and usually clear. Temperatures rarely drop 23 degrees Fahrenheit below or rise over 97 degrees Fahrenheit throughout the year.
Hot-weather activities in Tirana are best experienced between late June and late August. The average daily high temperature is above 82 degrees Fahrenheit from June until September, making this the hot season. July has an average high temperature of 88 degrees Fahrenheit and a low of 63 degrees.
The average daily high temperature is below 60 degrees Fahrenheit from November until March, making this the chilly season. January is the coldest month in Tirana, with an average temperature range of 33°F to 53°F.
From September through May, rain falls on an average of 10 days during the wetter season. The wettest days are in November. The dry season lasts four months, from May to September, with the driest period occurring in early July for around three days.
Useful Contact Details in Tirana, Albania
In the case of a police emergency, you should call 112. This is the general emergency number in Albania and will connect you to the local police station.
If you need medical assistance, dial 112 or visit your nearest hospital, usually open 24 hours a day. Several private hospitals can provide medical help if needed.
Suppose English isn't spoken at these locations. In that case, it's best to find someone who knows English to accompany you for help with communication.
Hospital
Address: Rruga e Dibrës 372 Tirana, 1000, Albania
Phone: +355 4 234 9209
Police
Bashkia Tirane Municpal Police
Address: Skanderbeg Square, Postal code 1001, Tirana, Albania
Phone: 0800 0888
Tirana Airport Contacts
Address: Ruga Nene Tereza, Rinas 1504, Albania
General Phone: +355 4 238 1800
Lost and Found Phone: +355 4 238 1800
Information Desk Phone: +355 4 238 1800
Official Website: https://www.tirana-airport.com
Local Information
Drive on: Right
Electricity: 230V/50Hz
Plug: C, F
Currency: Euro
Wi-Fi at Airport: Free Wi-Fi is available at Tirana Airport
Services at Tirana International Airport
Useful Information about Tirana International Airport