Tirana International Airport Arrivals (TIA)
Not all flights may be showing. If not available use search above to find your flight by airline, airport or flight number.
Origin
Airline
Flight no.
Scheduled
Est./Actual
Status
Bergamo (BGY)
Ryanair
FR8349
07:50
Scheduled
Catania (CTA)
Ryanair
FR8369
07:55
Scheduled
Athens (ATH)
Aegean Airlines
A3970
09:05
Scheduled
Wasaw Modlin (WMI)
Ryanair
FR8413
09:10
Scheduled
Rome (FCO)
Wizz Air
W43858
09:55
Scheduled
London (STN)
Ryanair
RK8288
10:25
Scheduled
Bergamo (BGY)
Wizz Air
W43846
10:40
Scheduled
Treviso (TSF)
Wizz Air
W43852
10:40
Scheduled
Athens (ATH)
Wizz Air
W44814
10:45
Scheduled
Bologna (BLQ)
Wizz Air
W46682
10:50
Scheduled
Pisa (PSA)
Wizz Air
W43854
10:55
Scheduled
Milan (MXP)
Wizz Air
W46608
11:00
Scheduled
Florence (FLR)
Albawings
2B268
11:10
Scheduled
Turin (TRN)
Wizz Air
W46604
11:35
Scheduled
Dortmund (DTM)
Wizz Air
W43842
11:40
Scheduled
Pisa (PSA)
Air Albania
ZB2010
11:40
Scheduled
No flight arrivals were found at Tirana International Airport.

Flight Arrivals at Tirana International Airport
At Albania's Tirana Airport, there are numerous possibilities for ground transportation. The taxi service at the airport is the most popular mode of transportation to and from the airport. Various automobile rental agencies at Tirana Airport provide short-term and long-term cars for people who wish to tour Albania independently.
In addition, local bus services run approximately every 30 minutes during peak hours between the city center of Tirana and the airport. A shared shuttle service can transport visitors with luggage directly from their Tirana hotel or house to the airport's arrivals terminal.
Rental Car Services at Tirana Airport
Renting a car from Tirana Airport in Albania is a simple, convenient, and economical method to explore the surrounding area. Consumers can select the ideal vehicle for their journey, from sedans, SUVs, and premium vehicles to add-on services such as navigation systems and infant and child seats for families traveling with small children.
Also, the airport provides friendly customer service agents who are always available to answer inquiries about Tirana's sights and attractions or help get a great price on flights from neighboring cities.
See and compare all rental car companies at Tirana Airport.
Taxi Services at Tirana Airport
The quickest way to reach Tirana Airport is by taxi, available in all urban districts. Depending on traffic, the trip from the airport to the city center of Tirana takes approximately 25 minutes and costs approximately 20 Euros. See more information about taxis at Tirana Airport.
Auto Holiday Albania (AHA) offers a taxi service between Tirana Airport and all cities in Albania for individuals and groups. The service is competent and friendly 24 hours a day, seven days a week, at reasonable costs.
Train Services at Tirana Airport
Albania's Tirana Airport does not offer rail service. When in the region, passengers are urged to utilize other modes of transportation. More information about train services near Tirana Airport.
Taxis are the most popular mode of transportation in Tirana, offering various dependable services. Depending on traffic and distance driven, the typical fee to the city center is roughly 20 euros.
There are buses available for both domestic and international travelers. A one-way airport-to-downtown Tirana ticket costs only 4 euros per person.
Bus Services at Tirana Airport
LUNA offers a shuttle service between Tirana Airport and downtown Tirana. Behind the National Theatre of Opera and Ballet is the bus stop. The cost of a single ride is 400 Albanian Lek.
The Rinas Express bus service operates daily from 6:00 AM to 12:00 AM. The Rinas Express bus makes hourly runs from Tirana to the airport. The bus is parked behind the Opera and Ballet Palace in Tirana. It is a thirty-minute drive. More information about buses to and from Tirana Airport.
Hotel Shuttle Services at Tirana Airport
This service offers a handy means of transportation to your accommodation or location within the city. The shuttles are accessible around-the-clock and provide comfortable, dependable transportation. Numerous hotels around Tirana Airport offer their own shuttle services.
These shuttles normally operate at scheduled hours throughout the day and night, so preparing beforehand can save you time if you need to go somewhere quickly. These shuttles will typically drop you off at the hotel or other location's entrance upon arrival.
Visit our hotel page for additional details.
Rideshare Services at Tirana Airport
The simplicity of not having to plan for a taxi when arriving and departing from the airport is appealing to passengers, especially those attempting to save money. In addition to being economical, ridesharing services are prompt and dependable.
Individuals unfamiliar with the area may discover that using a rideshare service at Tirana Airport saves them time. Many drivers have local knowledge, enabling them to take routes that bring clients to their destinations faster than traditional taxi services.
Parking Services at Tirana Airport
The airport features ample parking spots for short- and long-term visits, making choosing a location that suits your needs easy. An online booking system also allows you to reserve your parking spot in advance, ensuring it will be available when you arrive at the airport.
Costs vary based on the length of stay, ranging from daily prices to extended rates for those who want longer storage periods. In addition, many travelers prefer private organizations that offer off-site parking near Tirana Airport since they typically offer a better value and larger lots than those offered on airport property.
See more information about short and long term parking at Tirana Airport.
Other Services at Tirana Airport
There are shops, currency exchange counters, ATMs, car rental services, and a public post office available to passengers at Albania's Tirana Airport. There are several eateries available to passengers at the airport.
Wheelchairs are also available for passengers needing them and can be requested from any terminal's information counters. Finally, the area has several lounges where passengers can unwind before their flight, with complimentary snacks and drinks and plush seating areas.
Disabled Passengers at Tirana Airport
Wheelchair access, help with check-in and boarding, and special parking areas are just some of the amenities the airport offers its disabled passengers. The terminal building also has a restroom that is specially designed for passengers with special needs.
Additionally, passengers with special needs can contact the airport service Help Desk before their arrival to arrange for the appropriate assistance. Signs are posted in both English and sign language to ensure that they are understood by all visitors, including those who are deaf or hard of hearing.
Wi-Fi at Tirana Airport
The terminal building and airside areas, such as lounge waiting areas, are all covered by the Wi-Fi service. You can either look for a sign advertising free Wi-Fi at the Tirana Airport or use your device's wireless settings to locate and connect to the network. Before establishing a connection, passengers must fill out a registration form with their personal information and agree to the service's terms of service and any other rules displayed on the screen.
Baggage Claim at Tirana Airport
Check-in and lost-and-found are just two of the many services this area provides. For security reasons, the area is heavily patrolled by CCTV cameras. In addition, there are ATMs for passengers to use. In addition, a service is available to answer questions and guide passengers at an information desk.
Information Desk at Tirana Airport
The helpful and well-informed staff at the airport's information desks in Tirana can answer any questions. Whether you need help finding the nearest eatery or reserving a flight, they are more than willing to lend a hand. There are also informative kiosks available.
Smoking at Tirana Airport
Although smoking is not permitted inside the terminal building, a designated area is available outside. Seating and ashtrays are available here, making it ideal for smokers to relax before their flight. Anyone who lights up should first check the posted rules.
No alcoholic beverages may be brought onto airport property or consumed there. Passengers must keep their duty-free purchases sealed until they leave the airport after their flights have ended.
Lost and Found Section at Tirana Airport
Items discovered by travelers or airport employees should be delivered there. If you lose something while in Tirana Airport's facilities, don't worry; you can get it back. Following Albanian law, this service is free to the recipient.
Items will be kept for 30 days before being transferred to our main office for long-term storage. Depending on the situation, they'll stay for three months, at which point they'll either be returned or disposed of. Please contact us with specifics about the lost item(s) and, if applicable, a photo ID if you'd like to have it returned.
Restrooms at Tirana Airport
Plenty of stalls make it easy for passengers to find a bathroom. There is no family or gender-neutral restroom at the airport, but there are facilities for both sexes.
There are also adapted restroom facilities, including stalls with grab bars. Travelers can use the automated sinks; soap is available from wall-mounted dispensers.
Nursing Mothers Station at Tirana Airport
The station is a quiet place to work that also has chairs and medical supplies. In addition, there are safe lockers provided for the use of nursing mothers to store personal items.
ATMs at Tirana Airport
The Tirana Airport terminal has multiple ATMs for passengers' convenience. Some automated teller machines allow for more than just cash withdrawals, such as account balance inquiries and fund transfers.
Currency Exchange at Tirana Airport
Tirana International Airport's foreign exchange service provides reasonable rates. Many businesses and accommodations in Albania do not accept foreign currency, so it is wise to bring some with you.
Rates fluctuate frequently and vary considerably depending on where you exchange your money. Hence, comparing services before settling on one is important.
Food and Beverages at Tirana Airport
Hot and cold drinks and snacks from domestic and international brands are available to passengers. Various sit-down restaurants, like pizza and burgers, serve regional specialties from Albania and Western standards.
Fresh pastries, cakes, sandwiches, and desserts can all be found at the many cafés. In addition, the airport is home to several outlets selling fast food from well-known international chains.
Shopping at Tirana Airport
An Albanian market sells traditional local goods like olive oil and handicrafts. A travel convenience store has souvenirs and gifts.
Watches, jewelry, perfumes, and liqueurs are just some of the luxury items that can be found in some shops. If you're looking for something unique or great keepsakes to bring home to loved ones, you should check it out.
Pet Relief at Tirana Airport
Tirana Airport's pet relief areas are a great amenity for those traveling with pets. The airport's pet relief areas provide a clean, fenced-in space for pets to relieve themselves in the arrivals hall and the parking lot.
You can rest assured that your pet will be comfortable here thanks to the abundance of grassy areas, trash cans, and drinking fountains. When using these areas, please always keep your pet on a leash.
Ticketing Services at Tirana Airport
Tirana International Airport's ticketing services are cutting-edge and flexible. There are kiosks available at the airport that expedites the purchase of tickets, and there are also reasonably priced online booking sites.
An automated baggage system, in addition to the standard check-in counters, aids in speeding up the process. Direct flights to many European cities are available from Tirana Airport, making it a practical choice for time-pressed passengers.
Was your flight delayed or cancelled?
You may be eligible to receive up to 600 EUR compensation per person in your party..
Claim Now!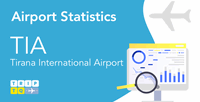 In September 2023, Tirana Airport saw a 54.75% increase in passenger numbers compared to the same month in 2019.