Tirana International Airport Departures (TIA)
Not all flights may be showing. If not available use search above to find your flight by airline, airport or flight number.
Destination
Airline
Flight no.
Scheduled
Est./Actual
Status
Warsaw (WMI)
Ryanair
FR8414
09:35
Scheduled
Athens (ATH)
Aegean Airlines
A3971 expand_more(1)
09:50
Scheduled
Athens (ATH)
Emirates
EK4974
09:50
Scheduled
Rimini (RMI)
Wizz Air
W43875
10:30
Scheduled
London (STN)
Ryanair
RK8289
11:10
Scheduled
Ancona (AOI)
Wizz Air
W43855
11:15
Scheduled
Pescara (PSR)
Wizz Air
W43863
11:15
Scheduled
Turin (TRN)
Wizz Air
W46661
11:25
Scheduled
Bologna (BLQ)
Wizz Air
W43877
11:30
Scheduled
Bari (BRI)
Wizz Air
W46601
11:35
Scheduled
London (LTN)
Wizz Air
W94466
12:25
Scheduled
Hamburg (HAM)
Wizz Air
W46613
12:40
Scheduled
Verona (VRN)
Air Albania
ZB2011
12:40
Scheduled
Istanbul (IST)
Air Albania
ZB1010 expand_more(1)
12:50
Scheduled
Istanbul (IST)
Turkish Airlines
TK8782
12:50
Scheduled
Manchester (MAN)
Ryanair
RK8293
12:50
Scheduled
Dusseldorf (DUS)
Air Albania
ZB5001
12:50
Scheduled
London (LHR)
Finnair
BA381 expand_more(1)
01:05
Scheduled
London (LHR)
American Airlines
AA7036
01:05
Scheduled
Catania (CTA)
Wizz Air
W46605
01:05
Scheduled
Perugia (PEG)
Wizz Air
W44811
01:10
Scheduled
No flight departures were found at Tirana International Airport.

Flight Departures at Tirana International Airport
The most well-liked method of getting to Albania's Tirana Airport is by taxi. Several vehicle rental agencies provide services directly to the airport for those seeking to independently explore Albania.
Additionally, if you are renting a vehicle, you can return it onsite. Buses, hotel shuttles, and ridesharing services can also take you directly to the airport.
Rental Car Services at Tirana Airport
Returning a car rental vehicle at Tirana Airport in Albania is straightforward. The rental car company representatives will handle the check-in process and provide you with the necessary paperwork for your records.
At the same time, make sure to return your vehicle before the due date to avoid any unnecessary fees or charges. When returning a car to Tirana Airport, it's important to be mindful of traffic rules in Albania and airport regulations such as parking restrictions.
It's also highly recommended that drivers inspect their rented vehicle for any damages or scratches before returning it and filling up the fuel tank if needed. Remember to collect all personal items inside your rental car before handing over your keys.
See all rental car companies at Tirana Airport.
Taxi Services at Tirana Airport
Taxis are readily available in all major cities and urban regions. They are the quickest way to go to Tirana Airport. Depending on traffic, the trip from the airport to the city of Tirana takes 25 minutes and costs about 20 euros. More information about taxis at Tirana Airport.
For both individuals and groups, Auto Holiday Albania (AHA) offers taxi services at Tirana Airport, linking Tirana Airport and all Albanian cities. The service is available twenty-four hours a day, seven days a week, and is professional and courteous.
Train Services at Tirana Airport
At Albania's Tirana Airport, trains are not accessible. When in the region, passengers are encouraged to seek alternative transportation.
In Tirana, taxis are the most often used mode of transportation and offer various trustworthy services. Depending on the amount of traffic and the distance driven, the typical fee to the city center is about 20 euros. Additional information about train services near Tirana Airport.
Buses are accessible to both domestic and foreign passengers. From the airport to the center of Tirana, a one-way ticket only costs 4 euros per person.
Bus Services at Tirana Airport
LUNA Tours offers a shuttle service between the Tirana International Airport and the city's center. The bus stop is located behind the National Theatre of Opera and Ballet. You will be charged 400 Albanian Lek for a single ride. Further information about buses to and from Tirana Airport.
The Rinas Express bus route runs daily from 6:00 AM until 12:00 AM. Every hour, the Rinas Express bus departs from Tirana for the airport. The bus is parked in front of the Opera and Ballet Palace in Tirana. The trip takes 30 minutes.
Hotel Shuttle Services at Tirana Airport
This service offers a practical way to travel to your hotel or other location within the city. The shuttles provide convenient, dependable transportation and are accessible around-the-clock. Numerous hotels near Tirana Airport also offer their own shuttle services.
Planning beforehand can help you save time if you need to go somewhere quickly because these shuttles normally run at scheduled hours throughout the day and night. When you reach your destination, these shuttles will typically leave you at your hotel's or other location's entrance.
To learn more, please visit our hotel page.
Rideshare Services at Tirana Airport
Travelers, especially those trying to save money, are drawn to the simplicity of not scheduling a taxi when leaving and entering the airport. Ridesharing services are not only affordable but also quick and dependable.
Several drivers at the Tirana Airport have local knowledge that enables them to select routes that get customers where they need to go more quickly than regular taxi services would be able to do, which can save time for those who are unfamiliar with the area.
Parking Services at Tirana Airport
Finding the ideal place for your needs is simple, thanks to the airport's ample short- and long-term parking options. Also, a system for online reservations enables you to reserve your spot ahead of time, ensuring it will be available when you get to the airport.
The cost varies according to how long you remain, ranging from daily prices to extended rates for people who need to store their cars for longer periods. In addition, many visitors favor private businesses that offer off-site parking close to Tirana Airport since they frequently offer better rates and larger lots than those found on airport property.
See more information about long and short-term parking at Tirana Airport.
Other Services at Tirana Airport
At Tirana Airport in Albania, additional passenger services and amenities include stores, currency exchange offices, ATMs, vehicle rental services, and a post office. The airport also features a variety of cafes and eateries for passengers' enjoyment.
In addition, wheelchairs are available upon request from any information desk throughout the airport for disabled travelers. Lastly, several nearby lounges provide pleasant seating places and complimentary refreshments and beverages for those wishing to rest before their next departure.
Disabled Passengers at Tirana Airport
The airport offers numerous facilities for disabled passengers, including wheelchair access, assistance with check-in and boarding, and designated parking places. A handicap-accessible restroom is located on the terminal's ground floor for the convenience of passengers with special needs.
In addition, passengers who require specific assistance can contact the airport service Help Desk before their arrival to guarantee they receive all necessary assistance during their airport stay. Also, it is totally accessible to deaf and hard-of-hearing individuals; signs are posted in both English and sign language throughout the facility to make them more easily understood by everyone.
Wi-Fi at Tirana Airport
The Wi-Fi network is accessible throughout the terminal building and airside locations, including lounge waiting rooms. You must search for the access network on your device's wireless settings, check for a sign indicating a free Wi-Fi hotspot at Tirana Airport, and click the connect button. Before utilizing the service, passengers must register their personal information and agree to the displayed terms of service and any other applicable rules.
Baggage Claim at Tirana Airport
The section provides numerous services, including check-in and lost-and-found. CCTV cameras monitor the region extensively for safety considerations. ATMs are also accessible for use by passengers at the airport. Moreover, an information desk assists and advises passengers regarding their flights and other inquiries.
Information Desk at Tirana Airport
The information desks at Tirana Airport are staffed by friendly, well-informed personnel who can answer any questions. Whether you need directions to the nearest restaurant or assistance booking a flight, they will be pleased to assist you. There are also helpful information kiosks available.
Smoking at Tirana Airport
The airport terminal building prohibits smoking, although there is an outdoor smoking area. This area provides couches and ashtrays, making it an ideal place for smokers to take a breather while waiting for their flight. Individuals who intend to smoke must observe any proper signage before lighting up.
Moreover, Tirana Airport adheres to stringent laws regulating the transport and consumption of alcoholic beverages on its premises; no open containers are permitted at any time, and duty-free purchases must remain sealed until travelers exit the airport following their flights.
Lost and Found Section at Tirana Airport
Any goods that passengers or airport personnel discover at Tirana Airport must be delivered to the Lost & Found Section. As a passenger, you can claim lost items during your visit to Tirana Airport. The service is given at no cost under Albanian law.
The things will remain there for thirty days before being transferred to our main office's storage facility. Depending on the situation, they will remain there for three months before being returned or disposed of. If you desire to retrieve a lost item, please get in touch with us with a description of the item(s) and a photo ID, if relevant.
Restrooms at Tirana Airport
They have numerous cubicles, making it easy for travelers to locate a restroom. There are no gender-neutral or family restrooms at the airport, although there are separate facilities for men and women.
In addition, each restroom contains stalls with grab bars accessible to disabled people. Wall-mounted soap dispensers and automatic sinks provide travelers with hand-washing necessities.
Nursing Mothers Station at Tirana Airport
The station offers a secluded room with comfortable chairs and access to medical supplies. Also, there are secure storage lockers for women to use while caring for their infants.
ATMs at Tirana Airport
At Tirana Airport, ATMs are located in various locations throughout the terminal. In addition to cash withdrawals, some ATMs provide financial services such as account balance inquiries and transfers.
Currency Exchange at Tirana Airport
The airport's currency exchange services offer cheap exchange rates. Many Albanian businesses, restaurants, and hotels do not accept the international currency. Having some local currency on hand is advisable upon arrival.
Prices fluctuate frequently and might vary significantly depending on where you convert your money; therefore, it is essential to compare various services before selecting the one that best meets your needs.
Food and Beverages at Tirana Airport
Local and international brands of hot and cold beverages and snacks are available to travelers. There are a variety of sit-down restaurants offering traditional Albanian food and worldwide favorites, such as pizza and burgers, for those searching for something more substantial.
Also, cafés sell freshly baked pastries, cakes, sandwiches, and sweets. In addition, various fast food outlets offering well-known global fast food franchises are available around the airport.
Shopping at Tirana Airport
In addition, there is a travel convenience store with souvenirs and gifts and an Albanian market with olive oil and handicrafts.
Several stores also carry luxury items like watches, jewelry, perfumes, and alcoholic beverages. It's worth visiting if you're looking for something unique or want souvenirs for your family and friends back home.
Pet Relief at Tirana Airport
Pet relief zones at Tirana Airport are a significant benefit for passengers traveling with furry companions. The pet relief spaces in the arrivals hall and parking lot provides a safe and secure location for pets to relieve themselves while traveling through the airport.
This ensures your pet has all it requires as you navigate the airport. All animals must always be on a leash when using these facilities.
Ticketing Services at Tirana Airport
Airport ticketing services at Tirana are contemporary and offer a range of options. The airport has kiosks that streamline and expedite the ticketing procedure and online booking sites with reasonable costs.
In addition to the traditional check-in counters, an automated luggage system helps to cut wait times. Tirana Airport also offers direct flights to several European destinations, making it a useful option for tourists who must reach their destination swiftly.
Was your flight delayed or cancelled?
You may be eligible to receive up to 600 EUR compensation per person in your party..
Claim Now!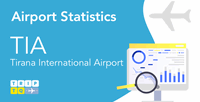 In September 2023, Tirana Airport saw a 54.75% increase in passenger numbers compared to the same month in 2019.