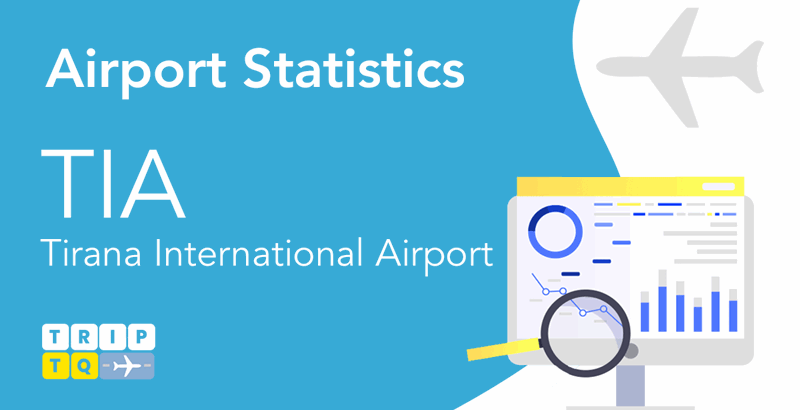 Tirana Airport Breaks Records in August 2023, Witnesses 108% Passenger Traffic Growth
Tirana Airport in Albania experienced an impressive all-time high increase of 108.48% in passenger numbers recorded in August 2023. Compared to August 2019, when 425,162 passengers were recorded, the airport saw significant growth, with 886,368 passengers in August 2023, four years after the pandemic. This showcases Tirana Airport's ability to attract and accommodate more passengers post-pandemic.
Improved Connectivity Fuels Tourism Boom
With the gradual easing of travel restrictions and the introduction of new routes, Tirana Airport has witnessed an influx of tourism. The airport's strategic location in the capital city of Albania makes it an ideal gateway for travelers exploring the country's vibrant culture, picturesque landscapes, and rich history. Direct flights to popular tourist destinations within Europe have increased, attracting visitors from all corners of the continent.
Revitalized Marketing Strategies Gain Attention
In collaboration with the Albanian Tourism Board, Tirana Airport has implemented vigorous marketing campaigns to promote the country as an attractive destination. These efforts have captured the attention of international travelers seeking new experiences. Well-designed advertisements showcasing Albania's stunning beaches, UNESCO World Heritage sites, and welcoming hospitality have attracted tourists, contributing to the airport's increased passenger numbers.
Capacity Expansion Enhances Travel Experience
Recognizing the need for adequate infrastructure to accommodate the growing demand, Tirana Airport has undertaken significant expansion projects. This hub has invested in modernizing and expanding its terminal facilities, improving passenger comfort and overall travel experience. Adding additional gates, check-in counters, and security checkpoints has minimized congestion, ensuring smoother and more efficient operations.
Partnerships with Low-Cost Carriers Stimulate Demand
Tirana Airport has partnered with low-cost carriers to diversify its airline portfolio and cater to budget-conscious travelers. These collaborations have introduced affordable fares and increased flight frequency to popular destinations. The availability of budget-friendly options has made travel more accessible, attracting a wider range of passengers and contributing to the airport's remarkable growth.
Enhanced Safety Measures Build Passenger Confidence
Tirana Airport has placed paramount importance on implementing stringent health and safety measures to provide a secure environment for travelers. Stringent cleaning protocols, social distancing requirements, and the mandatory use of face masks have instilled confidence among passengers. The airport's commitment to maintaining a safe environment has been recognized and appreciated by travelers, prompting them to choose this hub for their journeys.
Government Support Nurtures Recovery
The Albanian government has played a crucial role in supporting the airport's recovery efforts. Recognizing the economic significance of aviation, they have implemented policies and initiatives to facilitate the return of air travel. Substantial investments in infrastructure development and support for marketing campaigns have contributed to the airport's growth trajectory. Government-backed financial incentives and relief packages have also supported airlines and tourism-related businesses, fostering a favorable environment for recovery.
The impressive recovery of Tirana Airport showcases the effectiveness of various factors such as improved connectivity, revitalized marketing strategies, capacity expansion, partnerships with low-cost carriers, enhanced safety measures, and government support. Despite the challenges faced during the past years, the essential elements of adaptability, collaboration, and continuous improvement have played a pivotal role in the recovery and growth of the aviation industry.
UNBEATABLE VALUE CAR RENTAL

FREE
Amendments,
FREE
Cancellations,
NO
card fees!

airport_shuttle Need Airport Transfers?
Useful Information about Tirana International Airport